Rescue Pets make the best pets
Do yourself a favor and consider one of these local agencies when looking for your next pet.
STORY BY: NEILL CALDWELL
If you are contemplating pet ownership, we hope you will consider adopting a rescue pet. Staff writer, Neill Caldwell showcases three, local agencies: Southport Oak Island Animal Rescue (SOAR), Paws Place Dog Rescue and Brunswick County Sheriff's Office Animal Protective Services. Each can help you find the perfect fit for your family.
WHAT: SOAR is a non-profit, no-kill animal rescue off Airport Road that provides safe shelter, medical treatment, healthy food, daily care and love to lost and abandoned dogs and cats.
WHEN: Adopting time at the facil- ity is on Saturdays from 10 a.m. to 2 p.m. and weekday mornings by appointment (from 8 a.m. to noon only). Where: 3376 St. Charles Pl., Southport, NC 28461; Phone: (910) 457-6340; Website: soar-nc.org and "SOAR" on Facebook
WHY: SOAR is a popular and well-staffed facility that gets creative with its promotions to bring in people who might be interested in adopting a pet. Just recently the organization participated with a float in the Oak Island Christmas parade, offered a "Merry Treats and Eats" event at the Oak Island Rec Center, and welcomed a Girl Scout troop that had collected supplies for the facility. Anything to show off the future household pets who live there! And recently several residents got a holiday treat when Maggie Lin and the "Pawsative Moble Pet Spa" van visited.
Both SOAR's main website and Facebook pages are kept up-to-date with photos of these activities, and of course lots of photos of adoptable animals.
One area of interest is that SOAR offers cats with Feline Leukemia and Feline Immunodeficiency Viruses that are quite adopt- able.
The main website also lists ways to help SOAR continue, including donations (both financial and responding to their wish list), sponsoring animals, adopting animals, and volunteering.
In the 23 years since Jeannie Friday Bicknell started SOAR, hundreds of animals have been placed in loving homes.
WHAT: A privately run, non-profit, no- kill dog-only rescue facility located on five acres in Boiling Spring Lakes and founded in 1999 by Nancy Janovetz. "We are dedicated to finding dogs a loving home, no matter how long it takes — one life at a time." When: Adopting opportunities are available on Saturdays from 11 a.m. to 2 p.m. Also, Paws Place is at Zeetlegoos on the first Saturday of the month. On occasion they may be at other Southport locations at various times.
WHERE: 3701 E. Boiling Spring Road, Winnabow, NC 28479; Phone: (910) 845- PAWS (7297); Website: www.pawsplace. org, and "Paws Place Dog Rescue" on Facebook.  Also FYI they will be breaking ground for our new location in Winnabow in just a few weeks.
WHY: Someone at Paws Place is obviously social media and Internet savvy, as the group has an attractive website and homes on Facebook, Twitter, Pinterest and Insta- gram! (If you're particularly a fan of photos of cute doggies, the Instagram feed is a must follow!) That coverage means there's no excuse for not knowing about this dog sanctuary in Boiling Springs.
Paws Place covers the region from coastal Brunswick County to Wilmington and primarily gets out into the community with regular appearances – they call them "Meet-and-Greets" to show off the dogs to potential owners.
The word "rescue" in the name of the business is important, as many dogs come to Paws Place in serious need of love and medical care. Many were simply abandoned and some were abused.
Right now the facility has about 30 dogs that are ready for adoption.
The organization holds an annual fundraiser called "Raise the Ruff" which is designed for on-going support and a building project for a new state-of-the-art indoor/outdoor facility that will improve conditions for both dogs and staff and lower operating expenses. Paws Place is also selling commemorative bricks to help fund that project, a great way to honor a pet or a pet lover in your life. Visit the website to learn more.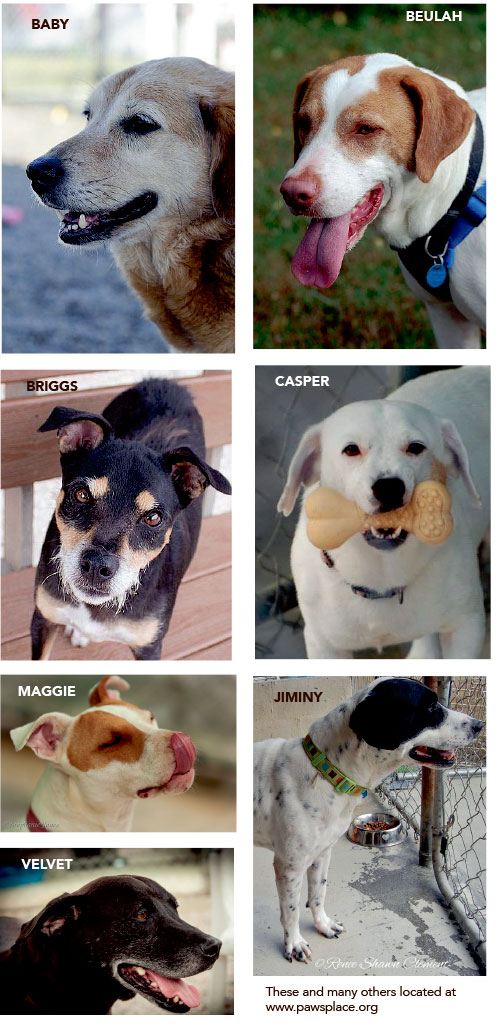 WHO: Brunswick County Sheriff's Office Animal Protective Services
WHAT: As the official local government agency responsible for our pets, Brunswick County Sheriff's Animal Protective Services "is committed to protecting the safety of citizens and animals within our community. Our goals are to create community partnerships to promote responsible pet ownership, decrease the overpopulation of domestic pets through spay-neuter programs and education, and to find every adoptable dog or cat a perfect, loving home." In addition to providing pet adoption opportunities, the agency is also responsible for picking up abandoned, injured or dead animals, investigating bites and possible rabies cases, and accusations of animal cruelty.
Belinda Prevatt, Adoption Outrech Coordinator
WHEN: Adopting times are available at the shelter Mondays through Thursdays, from 10 a.m. to 5:30 p.m., Fridays from 10 a.m. to 5 p.m., and Saturdays from 10 a.m. to 1:30 p.m.
WHERE: 429 Green Swamp Road, Supply, NC 28462 (1.5 miles west of Supply); Phone: (910) 754-8204; Website: www.aps. brunswicksheriff.com or "Brunswick Sheriff's Animal Adoption Page" on Facebook.
WHY: The County's animal headquarters is a wealth of information on spaying and neutering, questions about problem an- imals and pet-related injuries to humans, and local ordinances. They also offer low- cost rabies vaccination clinics.
On most Wednesday mornings staff members can be found offering an "Adoption Fair" at a local pet-related business; check the Facebook page for information on events and adoptable animals. The agency's main web page offers answers to most questions you can think of, as well as a list of local veterinarians. And the Sheriff's Office's Animal Protective Services depart- ment is part of the nationwide AdoptAPet. com network.
The agency was in the news this past summer when it rescued More than 100 chickens, ducks, pigeons and other birds, along with 10 dogs, from deplorable conditions at a run-down home. State Human Society Director Kim Alboum praised the staff, saying, "No animal should be forced to live in such a small area and breathe this ammonia-filled air. We're thankful to Brunswick County Animal Control for taking action in this case and allowing us to help rescue these animals."
And remember, if you have a situation with a scrappy snake, a problem possum or a belligerent bunch of bees … that's a Wildlife Resources problem! (www.ncwild- life.org/HaveaProblem.aspx)