PATRIOTIC COCKTAILS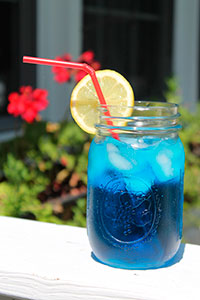 Nothing says summer like thirst-quenching drinks by the pool or beach
BY RACHAEL VAN NOORDT AND JENNIFER BARNETT
"Let music swell the breeze, and ring from all the trees, Sweet Freedom's song…."  This is one of my favorite lyrics of America – My Country 'tis of Thee. We don't normally sing this verse. Patriotic songs tend to be stoic and proud, as they should be. However during a time when we are celebrating our freedom and liberty, I prefer to have fun! I like to celebrate "out loud" and with friends, to honor our troops and the price they pay for our Independence! It's because of our military and military families that we are safe to express ourselves. With that in mind the staff here a Southport Magazine gathered a list of patriotic and very delicious cocktails to serve at your summer gatherings. (All of these can be converted to non-alcoholic if you like) Enjoy them and "Let freedom ring"!
THE CHERRY BOMB
INGREDIENTS-  
Maraschino Cherries (or fresh cherries)
Vodka
White Chocolate melting chips
Blue sugar
Soak the cherries overnight in the Vodka.
Dry before proceeding. Dip in melted white chocolate half way up Dip the tip in blue sugar Enjoy!
Sparkling White Peach Sangria
Serves 4 to 6
Ingredients
2 to 3white peaches, sliced
3/4 cup peach or apricot brandy
1 bottle moscato wine, chilled
1 liter peach seltzer water, such as Seagram's Sparkling White Peach, chilled
In a pitcher place 3/4 of the sliced peaches (saving some for garnish) and brandy.  lightly muddle… Then add the Moscato and seltzer water Stir with wooden spoon to mix. Pour into ice-filled glasses and top with a couple of fresh peach slices.
TripleBerry Wine Slush  
Quick, easy and the perfect way to end any day!
Serves: 10
Ingredients
(2) 12 ounce bags frozen mixed fruit (We used raspberries, strawberries,and blueberries)
· 1 (750mL) bottle of your favorite red wine (we used a sweettable red wine)
· 2 cups ginger ale
· 2 tablespoons sugar (optional)
Place all of the ingredients in a large blender (or make in half batches in a smaller blender)  Blend until well combined. Pour mixture into a large freezer friendly container and freeze for at least 6 hours. Take out of freezer and break up with an ice pick of fork. Spoon into wine glasses and enjoy!
ELECTRIC LEMONADE
makes 1 serving
Ingredients  
· 1 (1.5 fluid ounce) jigger citron vodka
· 1/2 fluid ounce Blue Curacao
· 2 fluid ounces sour mix
· 1 (12 fluid ounce) can or bottle of lemon-lime flavored carbonated beverage
· 1 lemon – cut into wedges, for garnish
Fill a Collins glass with ice. Pour in vodka, blue curacao and sour mix. Fill to the top with lemon-lime soda. Garnish with lemon wedge, and serve with straw.
The Sparkler  
Ingredients:  
Lemon Lime Soda
Pop Rocks – any red or blue flavor
Blueberry flavored Vodka
Fresh Strawberries
Fresh Blueberries
Grenadine (optional but I think it tastes better with it)
Spread out 1 package of Pop Rocks (either blue or red works) on a plate. On a different plate pour some grenadine or simple syrup. Dip your glass first into the plate with syrup on it. Next dip your glass into the pop rocks – you will hear them start to pop, but don't fret they will still pop in your mouth when you drink it! stir all other ingredients in your glass carefully and Enjoy!